| | |
| --- | --- |
| | Translate this Web Site to: |
---
Raffle!!!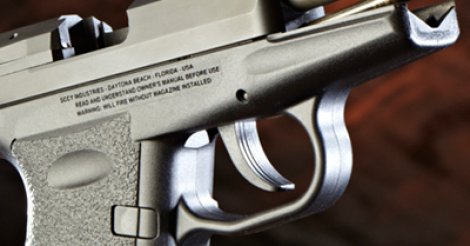 For only $15.00 per chance, YOU may win a brand new SCCY 9mm handgun of YOUR choice (A CPX-1 with a safety or a CPX-2 without a safety and what color combination you wish) (you may view the types available HERE) from SCCY!!
ALL Federal and local rules and laws will apply. At a minimum, be SURE you can take possession of the item (a handgun with two 10-round Magazines, DAO, Extremely lightweight at some 15 ounces...) You MUST be at least 18 years old and able to pass a Background Check and/or be responsible for any and all transfer Fees at pickup. Pistols cannot be shipped to Massachusetts if the pistol is for personal use. Firearm will be shipped to winners dealer of choice within 2-3 weeks after receipt of valid FFL.
Raffle winner will be announced on Memorial Day, 25 May, 2015
---
DONATIONS ARE TAX-DEDUCTIBLE!

We are

doing good things

with your support.

Please help this effort continue to grow.
Want to do automatic monthly donations? Email
Chrissy
who will help you set this up.
---
Combined Federal Campaign (CFC)
Anyone in the Federal Government and Military can contribute to Any Soldier Inc.
Our catalog number: 11993.
Please help spread the word on this.
Thank you, very much, for your support!
The Independent Charities Seal of Excellence is awarded to the members of Independent Charities of America and Local Independent Charities of America that have, upon rigorous independent review, been able to certify, document, and demonstrate on an annual basis that they meet the highest standards of public accountability, program effectiveness, and cost effectiveness. These standards include those required by the US Government for inclusion in the Combined Federal Campaign, probably the most exclusive fund drive in the world. Of the 1,000,000 charities operating in the United States today, it is estimated that fewer than 50,000, or 5 percent, meet or exceed these standards, and, of those, fewer than 2,000 have been awarded this Seal.
Any Soldier Inc. is proud to be one of them!
(CFC Handout
HERE
) (Set printer margins to .25" all around and remove browser header and footer.)
Please note that we are also approved for IBM ECCC, listed under the state of Maryland, with
IBM agency code: 0N683
. (That's a leading zero, not an Oscar).
---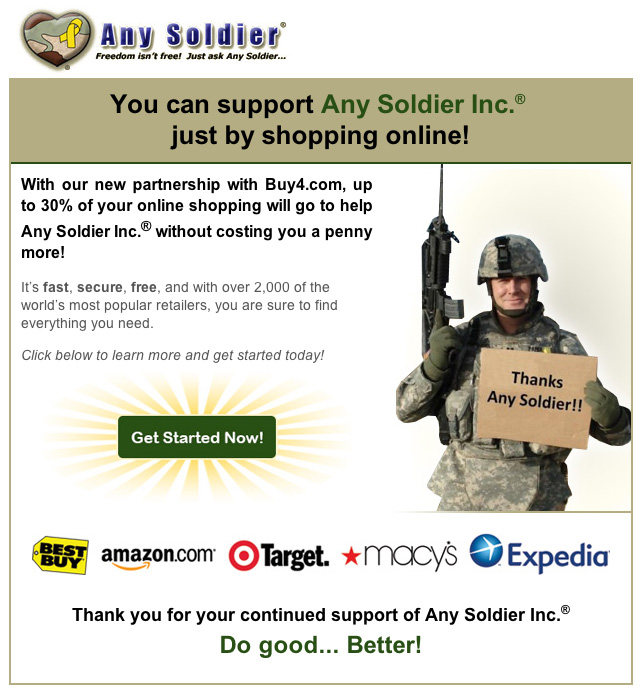 ---

Benefits of donating:

FAST
- next day pick-up appointments if called-in by 2pm

FREE
- we'll pick-up your donation at no charge to you

CONVENIENT
- we'll pick-up your car from wherever it is (home, work, auto shop)

TAX DEDUCTIBLE
- your donation is tax deductible to the full extent of the law

SAVE TIME
- save yourself the time and hassle of trying to sell it

FEEL GREAT
- knowing that your car will help further our mission
We work with a reputable car donation processor, Car Program, who will make all the arrangements at no cost to you. They handle the title transfer requirements and will provide you with a tax deductible donation receipt when they pick-up your car.
Need more information? Click
HERE
to donate your car and a helpful representative will call you shortly or you may call our car donation program 24/7 at
1-800-240-0160
.
---
®
supporters at MIT in cooperation with Yahoo!
®
, we present the Any Soldier
®
Toolbar!
This toolbar runs on your browser, is completely free, and everytime you use the search bar on it Any Soldier
®
gets a few cents. Learn more about it and get it now, FREE,
HERE
.
(Note to early users: Any Soldier Inc. was the first of two organizations to use this and it WAS buggy.
That was then, now the toolbar is very stable and we think you will like it.)
---
---
---
Any Soldier® quote worth repeating:
---
You know you're an Any Soldier® "Support Junkie" when...
---
More Any Soldier
®
"Support Junkie" symptoms in a pop-up window
HERE
.
---
Want the REAL story?
and
---
Weather and time in Afghanistan, Iraq, Kosovo, and more HERE.
(External links, may not be working because of the source.)
---
Take our polls: